Dr. Jamie Saliman, DVM
Veterinarian, Owner
Dr. Jamie Saliman went to Washington University in St. Louis for her undergraduate degree, receiving a BA in psychology with a minor in biology. While taking some time to prepare for vet school, she took a position with AmeriCorps working with at-risk youth in downtown Denver. Shortly thereafter, she attended Colorado State University, where she received her doctorate of veterinary medicine. After graduating in 2004 , Jamie did a one-year rotating internship and subsequently joined a small animal hospital where she practiced for 15 years.
Jamie's main interests are internal medicine, emergency and critical care, abdominal and cardiac ultrasound, wellness and geriatric medicine. "Animals are my passion. I feel extraordinarily fortunate to be able to spend my life caring for, and hopefully bettering the lives of, the very creatures that make me so happy."
Jamie lives in Denver with her Frenchie Monte and Cavalier Franny. She enjoys running, reading, hiking, and traveling, but most of all she enjoys spending time with her family.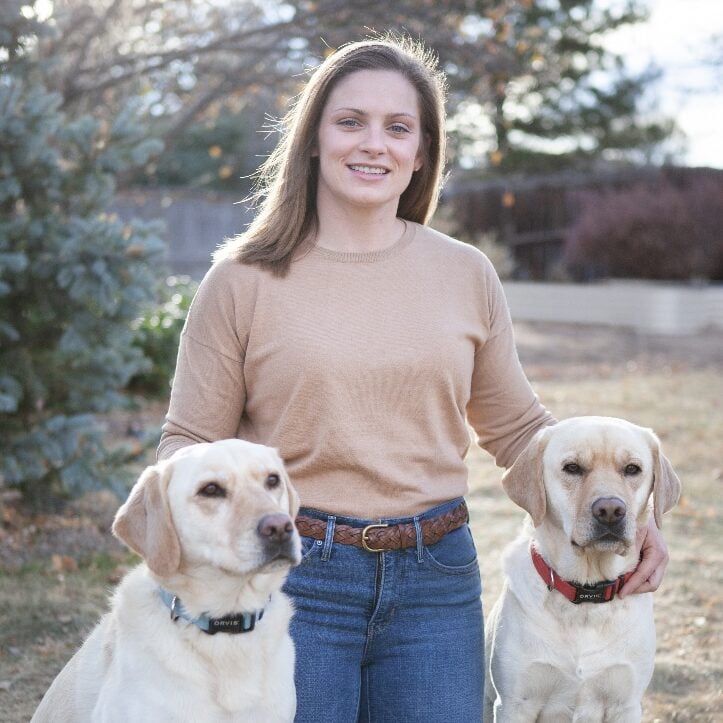 Dr. Annie Lorenzen, DVM
Veterinarian
Dr. Annie Lorenzen received her undergraduate degree in Anthropology from The University of North Carolina at Chapel Hill. After undergrad, Dr. Annie spent time traveling and working in Southern Africa. She then moved to Columbus, Ohio to earn a Master's in public health with a specialization in zoonotic disease. Dr. Annie continued on and earned her doctorate in veterinary medicine from The Ohio State University.
Dr. Annie's interests include soft tissue surgery, ophthalmology, nutrition, dermatology, general medicine, and geriatric medicine.
Dr. Annie enjoys spending time with her husband and son. Together, they love hiking and cross country skiing with their two labradors Benny and June. Dr. Annie also spends her time snowboarding, running, and baking. Annie has been lucky to know and work with Jamie and Josh since 2018. She is beyond excited to be joining the team at Inspire Animal Hospital!
Dr. Erin Mills, VMD
Veterinarian
Dr. Erin Mills was raised in southeastern Pennsylvania. She received her bachelor's degree in Zoology from Michigan State University before graduating from the veterinary school at the University of Pennsylvania in 2009. An internship at Wheat Ridge Animal Hospital brought her to Colorado and she has worked in private practice in Colorado since that time.
Her career has been focused on helping people understand pets and their medical needs in order to enhance the exceptional bond pet parents share with their loved ones. To that end, she has a special interest in small animal dentistry and is thrilled to be a part of Inspire Animal Hospital.
Dr. Erin lives in Denver with her spouse, a rambunctious Labrador mix and two kitties with big personalities. In her free time she enjoys hiking, backpacking, skiing and cycling.
Dr. Emily Rhodes
Veterinarian
Dr. Emily Rhodes grew up in Colorado. She has always had a passion for learning and growth, plus a great love for animals. She attended Colorado State University for her undergraduate degree in Biology and Anatomy and then again for her Doctorate of Veterinary Medicine, graduating in 2017. After graduation, she accepted a position for a rigorous one-year rotating internship at WestVet Animal Emergency & Specialty Center in Boise, Idaho. She fell in love with the team approach, teaching opportunities, and fast-paced environment, so she enthusiastically joined the team as a full-time emergency veterinarian for 5 years. She moved back to Colorado in 2022 to be closer to family.
Dr. Emily's main interests include emergency and critical care, gastrointestinal endoscopy, and preventative medicine. She is thrilled to be a part of the wonderful team that is Inspire Animal Hospital.
Dr. Emily enjoys exploring the Colorado outdoors with her husband. She has a passion for gardening, traveling, and reading. She also loves to spend time with her rambunctious Australian shepherd, Rucker, and her unruly, lovable cat, Rhett.
Josh Saunders, CVT
Practice Manager, Owner
Josh grew up in southern New Hampshire, an hour outside of Boston and 45 minutes from the ocean.  Having originally attended Johnson State in Vermont for Business Management, he moved to Colorado for something different.  Josh attended Bel-Rea Institute, graduating in 2011 with highest honors.  He worked in shelter medicine while in school and then went on to work alongside Dr. Jamie for 9 years at a large 24/7 emergency, limited specialty, and general practice hospital, where he was the Lead CVT.  He then went on to be the Specialty Department  Manager at an emergency and specialty hospital, and quickly learned that he missed the relationships that are created with patients and their owners in general practice.  He enjoys emergency medicine and surgery, but most importantly, he genuinely loves providing compassionate patient care, and ensuring the comfort of all patients and their owners.
Josh lives in Littleton with his wife, three children, and three Great Danes.  He enjoys the outdoors, attending concerts and above all, spending time with his family.  Animals are Josh's passion, and he is excited to share his life long passion with the community of Parker and surrounding areas.
Tamara, CVT
Certified Veterinary Technician
Tamara was born and raised in Colorful Colorado. She has always had a love for animals and knew at an early age that she wanted to become a Veterinary Technician. She remembers watching Bel Rea's commercials on TV growing up, and once she obtained her GED as a late teen, she knew exactly what she wanted to do with her life. She attended Bel Rea Institute of Animal Technology in 2009 and graduated in 2011. During her internship, she met Josh Saunders and Jamie Saliman, at a 24-hour Emergency and GP practice in Littleton, CO. After graduating, she started her career as a Certified Veterinary Technician at a small GP practice, but soon found her passion in Ophthalmology. She worked in Veterinary Ophthalmology for several years, where she wanted to further her passion, so she decided to go into human medicine and began working with an Ocular Immunologist and Uveitis Specialist. Although she has a passion for Ophthalmology, caring for animals was something she missed dearly. So, after 6 years, she made her way back to working with Josh and Jamie and fell in love with Emergency Medicine and Critical Care. During her time there, she became the coordinator for their internship program, coordinator for the blood donor program, and finally a technician supervisor. She is excited to continue providing excellent patient and client care, as well as following her passion for ophthalmology, emergency and critical care medicine.
Tamara lives in Littleton. She enjoys reading, getting outdoors and spending time with her two dogs Kitty the Pitty and Sansa.
Mallory, CVT
Certified Veterinary Technician
Mallory has called Colorado her home for the past 20 years. After graduating from high school, she went on to pursue an education and grow her passion for photography. She obtained a Bachelors of Fine Art but realized soon after graduating that she wanted to work with animals. Mallory was hired as a kennel technician at a 24-hour emergency hospital with a boarding facility attached. In that position, she was able to see the extraordinary veterinary care that doctors and technicians provide every day. This led her to pursue an education to become a veterinary technician. She graduated from the Veterinary Technician program at Community College of Denver in 2015 and continued her work in her new role as a Certified Veterinary Technician alongside Dr. Jamie and Josh.
Mallory wants to continue her interest in emergency medicine and provide the best care for her patients.
Mallory lives in Littleton with her two dogs Yosh and Harper. On the weekends, you'll find her spending time with her family and friends. She still enjoys capturing beautiful moments and memories of weddings, engagements, and pets behind the lens of her camera.
Jenn, CVT
Certified Veterinary Technician
Jenn has always loved animals since a young age and after graduating high school in Castle Rock, CO she immediately attended Bel-Rea Institute. She graduated from Bel-Rea in 2006 and worked at a large, 18 Doctor emergency/general practice hospital for 7 years where she was the Lead CVT. She then took a leave to manage her family's restaurant but was called back to the field that she loves. In addition to her many years of experience, she brings exceptional customer service, and always goes out of her way to care for our patients and clients. Outside of work she enjoys family time, music (especially Backstreet Boys), hiking, golfing, and skiing. She and her husband live in Aurora with her stepdaughter, dog "Powell", and rescue cat "Hippopotamus". Jenn is excited to be a part of the family at Inspire Animal Hospital.
Kathleen, CVTA
Technician Assistant
Kathleen was born and raised in Colorado. She grew up loving animals and wanting to find a career where she could help them. Her career started in medicine as a human phlebotomist, but she spent her free time volunteering at animal care centers all over the states from Colorado, to Washington, and even Hawaii. She then decided to pursue her passion for animal care full-time by enrolling at Pima Medical Institute, where she graduated as a Certified Veterinary Technician's Assistant with a 4.0 GPA. Kathleen has been in small general practice clinics ever since. In December 2021, Kat decided to join the Inspire family, where she loves to focus on surgery, emergency medicine, patient care and strengthening the human-animal bond.
She is currently reenrolled at Pima to further her education and career by becoming a Certified Veterinary Technician. Her dream is to one day work on a safari wildlife reserve, aiding in the rehabilitation of safari animals affected by poaching. In her free time, she enjoys cooking delicious vegetarian meals, traveling with friends, and creating amazing memories with her two dogs, Peach and Wally. Kat hopes to meet you and your fur baby the next time you are at Inspire!
Jessica
Technician Assistant
Jessica was born and raised in beautiful Surf City USA, Huntington Beach, California. She attended a local community college where she received her AA Degree and certificate of achievement in Airline and Travel Careers. Shortly after graduation, she followed her dreams of becoming a flight attendant, where she soared for five years. Jessica moved to Colorado two years ago for a change of scenery and says, "I'm never going back! … Except to visit my family." Although being a flight attendant was a wonderful adventure, she decided to follow her true passion of caring for animals, and enrolled in a Veterinary Assistant program with Penn Foster. Over the past year or so, Jessica has also spent much of her free time as a community dog walker and dog sitter for friends and family. She's a local to Parker, where she lives with her boyfriend Brian, four chickens and the neighborhood deer. She's thrilled to be a part of Inspire Animal Hospital and can't wait to meet you and your furry friends.
Cynthia
Technician Assistant
Cynthia has always had a love for animals. As a kid she dreamt of working at the Denver Zoo with their large mammals. After leaving Colorado and spending some time moving from state to state, she settled in Utah where she got a job in an aquarium. Upon getting married and returning to Colorado, she wanted a career change and got a job at a dog daycare. Working with dogs soon became Cynthia's passion and she began transitioning into veterinary medicine. She met Josh through an animal ER and jumped at the opportunity to work with him again. "For the first time in my life I feel genuine excitement about going to work and learning from Josh and Jamie.
Leslie
Customer Care Representative
Leslie is a Colorado native having grown up in the city above the clouds, Woodland Park, Colorado. From a young age she began pet sitting on a neighbor's ranch, developing an admiration for all the animals she cared for which included horses, sheep, chickens and of course plenty of cats and dogs.
Her most impactful job was as a pharmacy technician where she developed an enthusiasm for medicine while enjoying the ability to help make a noticeable difference in the lives of patients. Leslie now hopes to eventually become a Veterinary Technician, as her real passion is getting to connect with animals. "The opportunity to work with the entire team at Inspire Animal Hospital has been a dream come true. I am excited to come to work everyday where I get the chance to learn from such a passionate group of people."
Leslie currently lives in Parker with her boyfriend and two very spoiled cats, Fable and Hiro. In her free time she is making plans to build a tiny house on wheels and enjoys getting out in nature; especially the mountains, which she will always consider home.
Chance
Customer Care Representative
Chance was born and raised in Southern California, where he first began to work with animals in his high school's FFA program. He raised multiple animals including pigs and steers and also worked on the farm's petting zoo where they raised goats, llamas, and an abundance of miniature animals. He moved to Colorado in 2015 and began working in construction, but in his free time, he enjoyed working with animals and volunteering at the Denver Dumb Friends League. In late 2021, Chance decided to make a career change and wanted to keep working with animals and joined the amazing team at Inspire Animal Hospital.
Chance lives in Aurora with his two dogs Percy and Apollo, and his cat Zeus.
Rose
Customer Care Representative
Rose has been fascinated (and slightly obsessed) with canine behavior since her first volunteer position at a local shelter when she was 14. After adopting an "unadoptable" dog, she started taking classes and researching Positive Reinforcement Training methods. It placed her not only on a path, but something of a mission: The plight of the Fearful Aggressive led her to become a first-rate trainer, and it kept growing. She became a certified Canine Good Citizen Evaluator, and then moved into Service Dogs; catering each dog's program to their person's individual needs.
Luckily, Rose started bringing her own dogs to see Dr. Jaime and Dr. Annie. When Inspire had an opening, Rose jumped at the chance to join this amazing team. While she still enjoys training and behavioral consultation, she has found a home with Inspire Animal Hospital. She currently lives in Aurora.